About Us
Chris Wold, lead singer: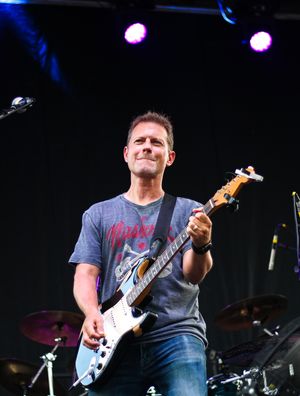 When I was in college I made a decision: good or bad, my life will be about making music. It turns out it was a good choice. I started my professional career right out of college, playing guitar in cover bands traveling all over the country. Wanting to start my own project, I moved to Atlanta and got a foothold in the solo acoustic scene.  in a few short months, connections and friendships were made, gigs were booked, and 7 Sharp 9 was created. 
Since then the band continues to play almost every show you can imagine;  Atlanta Peachdrop, bar gigs, backyard parties, weddings, birthday parties, original shows, retirement parties, corporate parties, holiday parties…we've played shows across the country from Seattle to Key West (even the Bahamas) and there is no end in sight! 
We have been fortunate to make our living playing music, both covers AND originals.  Our cover show is full of great songs from every genre; pop, rock, dance, country, blues, jazz…I have been a fan of all styles of music my entire life, and I get to play them all!  The original songs have mirrored my love for a good mix tape; our songs represent the sounds of pop, rock, some heavy, some soft, we have some jazz, some blues…whatever style helps to tell the story of the song the best, that was the style chosen. 
Our cover show continues to gain steam and we've booked a ton of corporate events and weddings.  We are in TheKnot.com's Hall Of Fame and we have also won WeddingWire.com's 'Couples Choice Award' every year since 2016. We have been on TheBash.com/Gigmasters.com's 'Best Of' list since 2012, and the band is currently the #1 booked Cover Band And Wedding Band in Georgia on that booking site.  To be a part of such an important day in the lives of our wedding couples is extremely fulfilling and a huge honor for me. 
We've opened for National Acts Collective Soul, Edwin McCain, REO Speedwagon, The Romantics, Sugar Hill Gang and Lonestar.  Television networks VH-1, MTV, E! Network, Bravo, A&E, WE, National Geographic and HGTV have all licensed 7 Sharp 9 original songs for their shows. 
Several songs from our 3 albums (available everywhere online) have had thousands of plays on radio across the country.  That radio success allowed the band to see some amazing places and meet some incredible people. 
The journey continues!  I love music because it brings people together-plain and simple. We look forward to sharing music with friends, old and new.  If you haven't seen the band, please check us out online, and come to a live show-we look forward to meeting you! 
-Chris